North Shore News
Jordan Carlson, Vice President of Investment for Anthem, says investing in the community of North Vancouver is important for many reasons, but in particular, because so many of the company's team members call the North Shore home.
"Our CEO Eric Carlson was born and raised there, went to Handsworth [secondary], and many of our team, I would say at least 50 of us from Anthem, live on the North Shore," says Carlson. "I was born and raised there. We feel very, very connected to the community."
Just one example of that commitment to the North Shore community was the plan to build Origin, a new 225-unit concrete rental apartment building in the heart of central Lonsdale, with 23 homes dedicated to mid-market renters. Anthem then took its goal of creating all types of housing in all forms— in an inflated housing market — one step further by offering first right of refusal to staff from Lions Gate Hospital, many whom now commute from other municipalities.
Carlson adds building housing closer to where people work is key in helping manage traffic in North Vancouver. According to a 2018 report from the North Shore Transportation Planning Project, an historically slow rate in housing growth has contributed to traffic congestion both to and from North Vancouver, causing workers to live in other municipalities and commute to the North Shore daily for their employment.
Which is one more reason Anthem continues to build so many types of housing, specifically in North Vancouver, with almost 1,200 homes in their North Shore portfolio, either built, under construction or in the design development approval stage, including condos, wood-framed townhouses, concrete mid-and high rises in both condo and rental form, and commercial space.
Carlson adds, the addition of new varieties of housing creates more opportunities across the spectrum and can be greatly aided by planning policies, which allow for the right amount of density and provide incentives to create these diverse housing types. The City of North Vancouver is a great example of this.
"It's such a wonderful place to live, it's becoming more and more vibrant, and the access to recreation, good schooling, and employment is second to none," says Carlson. "But not everyone can afford to live there, which is why Anthem looked at ways to help, like with Origin and our upcoming Seymour Estates development project."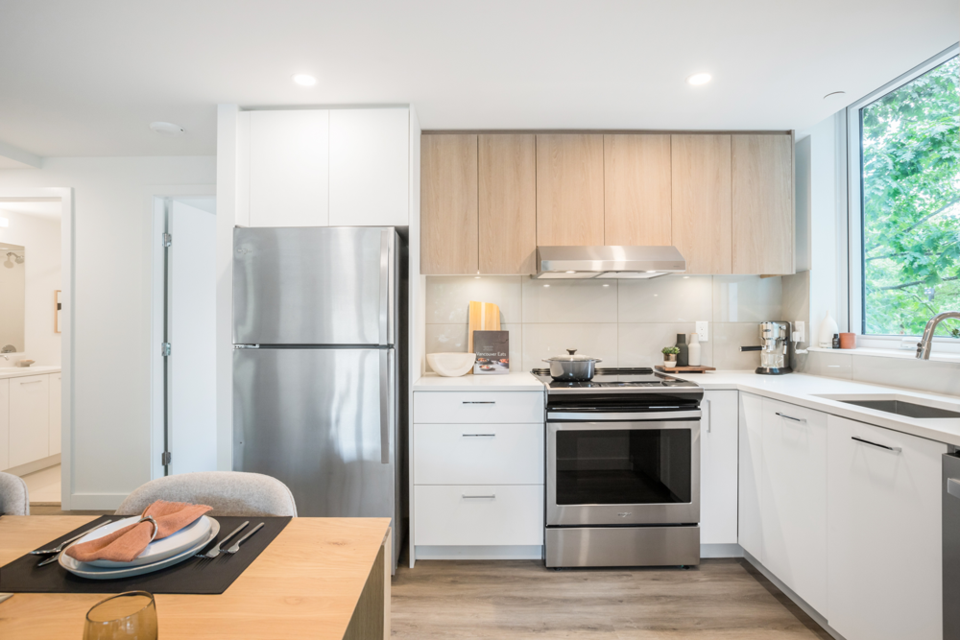 The project is a six-acre master plan community, which consists of 341 homes in the District of North Vancouver, including a six-storey wood-frame building offering 94 market and 25 Rent-to-Own apartments, 102 stacked townhomes including one dedicated to Habitat for Humanity, 31 three-storey at-grade townhomes and a six-storey purpose-built rental building offering 56 market rental and 33 affordable rental apartments.
"So, we try to provide housing for all the people who want to live on the North Shore."
To that end, Anthem wants to provide more housing opportunities for residents who already call the North Shore home, people who want to move back after being away, or those who want to call North Vancouver home for the first time.
"We won't get this done in a day," says Carlson. "But we're working at it."
Carlson notes the team at Anthem is particularly proud of what they've accomplished with Origin, which was built within steps of stores and transit and includes a large rooftop lounge/entertainment area complete with barbecues and gorgeous views; as well as a fitness centre, co-work space, and children's play area. An adjacent park will be completed in the near future.
A new public art project will be unveiled in front of Origin at an event Nov. 20, from 11 a.m. to 5 p.m., with the official unveiling taking place between 11 and 11:30 a.m. The public artwork, "Where Else Would You Rather Be?" by Justin Langlois, is a text-based artwork completed in white-LED neon tubes. The work will face the street corner of 17th and Eastern avenues, and be visible from Lonsdale Avenue.
Carlson says Origin is now leasing, so anyone interested is encouraged to book an appointment for a tour of the display suites the same day as the art unveiling, by visiting originbyanthem.com.
View the original article by north shore news here.