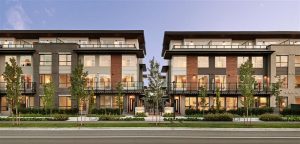 Founders Block North, our sold-out  townhome community in Moodyville, North Vancouver, is now LEED Gold certified. This accreditation recognizes Founders Block North as one of the most sustainable wood framed townhome communities in British Columbia.
What makes Founders Block North LEED Gold?
Founders Block North achieved LEED Gold certification through its use of eco-friendly construction materials and fixtures, as well as effective home designs that better conserve energy.
The community was built with environmentally sustainable products that have reduced harmful effect on human health and the environment. This includes locally sourced wood and cement, as well as recycled content. Products with low amounts of harmful chemicals (volatile organic compounds) were also used for home interiors, including the flooring, paints and sealants.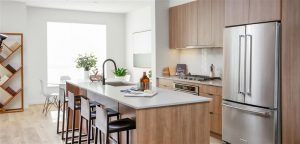 Each home was built air-tight to prevent heat loss while individual unit thermostats offer effective heating and cooling, and Energy Recovery Ventilators provide fresh air from the outdoors to each room.
Another element that makes Founders Block North LEED Gold certified is the installation of high-efficiency appliances and fixtures. These include low-flow showers, lavatory faucets and toilets, as well as Energy Star washers and dishwashers which have decreased water usage significantly. Currently, the community uses 2,506 gallons of water per month, which is 56% lower than the baseline amount of over five thousand gallons per month.
Together, these sustainable features and overall construction of the townhomes help ensure a comfortable living experience for all residents.
What's LEED Gold Certification?
Sponsored by the Green Building Council, the LEED (Leadership in Energy and Environmental Design) program is a globally used green building rating system that measures a building's carbon, energy, waste, water, materials, health and indoor environmental quality. LEED Gold is the second highest level of certification.