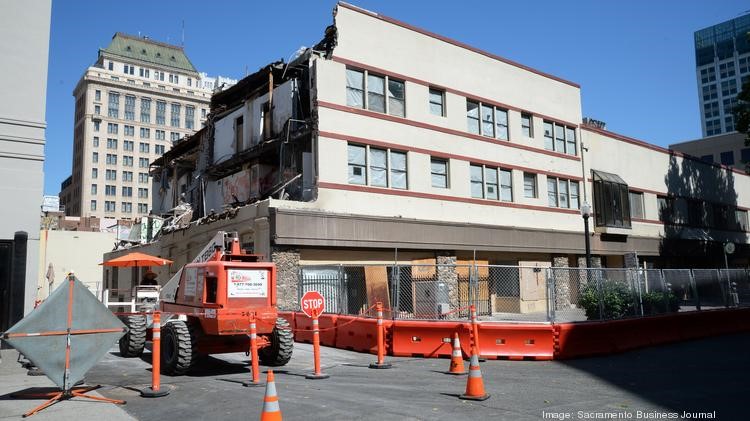 Sacramento Business Journal
Ben van der Meer
Demolition of old, vacant buildings at two sites began this week to make way for new housing, including in one highly visible area of Downtown Sacramento.
Within days, the two-story buildings on the southwest corner of 11th and J streets in Sacramento will be cleared, to be replaced by a seven-story project of 153 apartments above retail space called Cathedral Square. On a similar track, a vacant former Lumberjack Building Materials store and other buildings at 880, 924 and 936 Arden Way is being razed for a two-building project of 120 affordable housing units dubbed Arden Way Apartments.
Construction won't immediately follow demolition, as representatives of the companies behind the projects indicated there's a more immediate need to clear the sites because of blight and potential intrusion.
However, both could get underway soon. At 1030 J St., a vice president of development for Anthem Properties said in April that demolition in the summer would be followed by construction of Cathedral Square on the same site this fall. The city's Development Tracker website indicates the city has received an application for construction, though it's not yet fully approved.
Riaan De Beer of Anthem had said in April the company was committed to developing in Downtown Sacramento with Cathedral Square and another project at 15th and S streets.
On Arden Way, developer Community HousingWorks is aiming to also start in the fall, contingent on receiving tax credits for its affordable apartment project.
Arden Way Apartments, with an estimated development cost of about $46 million, would have units aimed at people making 60% to 70% of the area median income.
Once construction begins, the project would take about 18 months, putting its soonest possible opening in spring 2022, according to Jacklyn Oh, a project manager with Community HousingWorks. Sun Country Builders, out of Carlsbad, will be the project contractor.
View the original article here.