Mary Frances Hill
The Province
After more than a decade in interior design, The Mill Design principal Janine Wilson has an intimate knowledge of how homeowners live and thrive in a space that reflects personality and taste, and which meets their needs for restful escape.
Her work on the three homes at Clayton Walk, Anthem Properties' new townhome community in Surrey, runs the style gamut from traditional to bold contemporary and minimalist Scandinavian, illustrating both the homes' potential and her sophisticated taste and expertise.
In the more traditional suite, the open-concept kitchen and dining area takes on a country feel, with a dining set that Wilson knew would appeal to the homeowners in The Mill team's vision: "A married couple with grown children in college — we wanted a mature high-end look that was still comfortable and livable.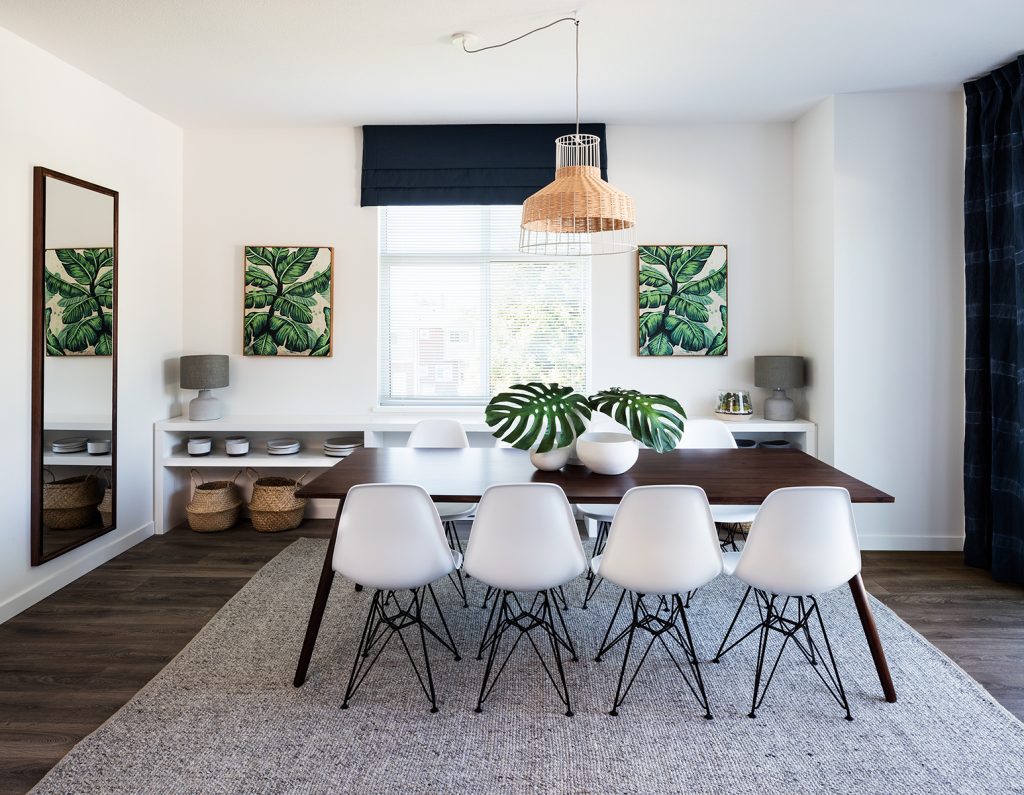 In Clayton Walk's contemporary display home, Wilson imagines a younger family, led by a couple that loves energetic, edgy looks that make an impact to visitors the minute they walk in. The deep blue of the dining chairs, surrounding a '60s-inspired round kitchen table and a sputnik chandelier set against three oversized paintings creates a striking tableau reminiscent of a set in Metropolitan Home magazine. Wilson admits The Mill Design team went beyond its own limits in the contemporary bold suite.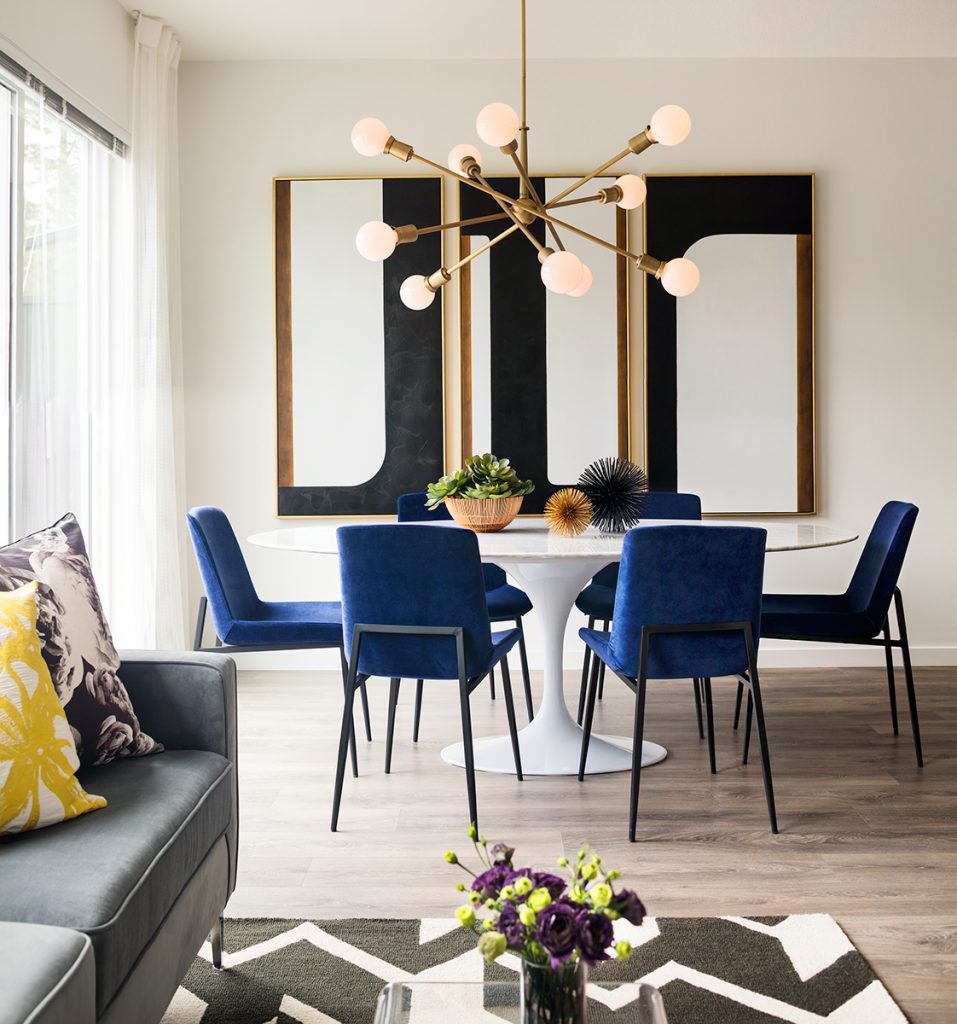 "We used a lot stronger colours than we would typically use. A dramatic cross-section agate style wallpaper was used in the main living area. I would normally not recommend such a strong pattern on a primary wall, but with this furnishing style, it works perfectly. "Also the art is larger scale and more dramatic than you might use typically."
For the third suite, decorated in a Scandinavian flair with its familiar minimalist style, Wilson imagined a young couple with small children who can live comfortably in surroundings that are "desert-inspired with soft tones, cactus artwork and furniture and accessories that were more minimal in style."
The homes are spacious, and many of their features are designed to attract those who would love to live in a single-family home, such as double-wide garages to fit cars parked in tandem, side-by-side washer-dryers, and a powder room on the main floor.
The size and layouts impress Wilson and her team as much as they would any curious homebuyer. "The kitchens in these units are just as large as you would see in most single-family homes. The end units with the extra wall of windows really feel a lot like single family homes."
Clayton Walk
Project Address: 18505 Laurensen Place (185th and Fraser Highway) Surrey
What: 143 townhomes within walking distance to schools, parks, shopping and future proposed Surrey-Langley light rail transit
Residences sizes and prices: Two-bedroom units, at 1,223 sq. ft; three-bedrooms 1,462 sq. ft; four bedrooms at 1,615 sq. ft.
Price: From $604,900
Developer and builder: Anthem Properties
Sales centre address: 18505 Laurensen Place (185th and Fraser Highway), Surrey
Hours: noon — 5 p.m., Sat — Thurs
View the original article by The Province, here.