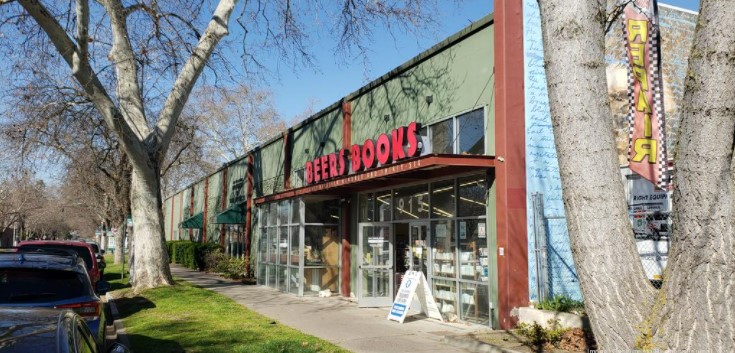 Ben van der Meer
Sacramento Business Journal
Development company Anthem United has made a third move into Sacramento's central city, buying the S Street property currently housing popular local bookstore Beers Books.
But while the Vancouver, British Columbia-based development company is already looking at redeveloping the site, it doesn't mean a looming end for the bookstore, according to the owner.
"We plan to move to another location, yet to be determined," said Carlin Naify, who was also part of the ownership group for the the property at 905 S St. She said she didn't have anything more to add about the sale of the property, which she'd been part of the ownership of for 12 years.
According to property records, Anthem United bought the site in recent weeks for $5 million from an ownership group that included Naify. The purchase includes a single building that contains both Beers Books and a larger office space that was most recently occupied by the state Department of Water Resources, though it's not clear if it's still there.
In an email, Anthem Vice President of Development Riaan de Beer said the company was starting to look at redevelopment possibilities for the site.
"905 S Street is a 32,000-square-foot site that is well positioned in Downtown Sacramento, just off the R Street Corridor and in close proximity to the California State Capitol, major downtown office buildings, light rail stations and Southside Park," he said. "The site offers a unique opportunity to deliver rental housing and strategic retail space in a highly desirable location, with excellent amenities such as shopping, dining, transit and park space all within walking distance."
The timing for a possible project at the site is to be determined.
Anthem United is underway on two urban residential projects in the city's urban core, one of them about six blocks east of its newest purchase.
Site work is underway for what will be an Anthem United six-story project of 137 apartments and ground-floor retail on the southeast corner of 15th and S streets, slated to be completed in about two years.
At the southwest corner of 11th and J streets, Anthem Cathedral Square has started making vertical progress. Anthem Cathedral Square will have 153 apartments and ground-floor retail when it's set to be done in spring 2023.
View the original article from Sacramento Business Journal here.