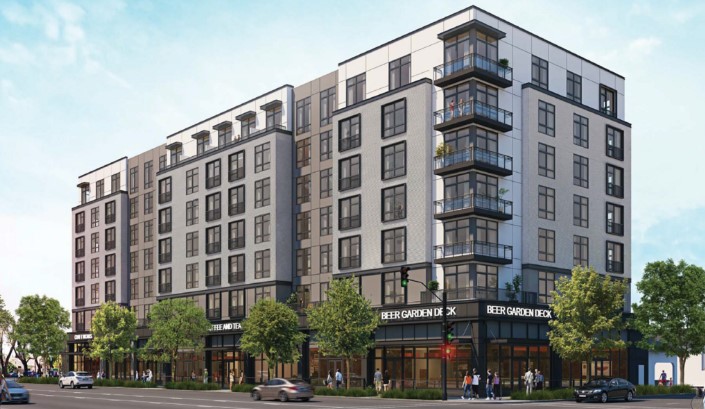 Sacramento Business Journal
Ben van der Meer
Canadian homebuilder and developer Anthem Properties is taking a swing at developing a spot near the R Street Corridor in Sacramento, one where previous attempts went nowhere.
The builder submitted plans this month for an eight-story,
137-unit project at 1500 S St., the southeast corner of 15th and S streets.
"This site is the ideal kind of thing where we can create
new homes, new businesses in that area," said Riaan De
Beer, Anthem Properties' vice president of development.
As soon as a year from now, construction could start on the
project, which would replace an empty office building and a couple unoccupied
homes there now. In addition to housing units ranging from 500-square-foot
studios to 1,000-square-foot two-bedroom apartments, the project would have
about 8,000 square feet of ground-floor commercial space.
De Beer said the commercial layouts would tilt toward several
smaller users rather than larger ones, with spaces of 1,000 to 1,500 square
feet. The ground floor would also have parking for about two-thirds of the
apartments, behind commercial spaces facing onto the street.
For residents, amenities would include an 80-by-80-foot deck on
top of the building's two-story concrete podium, facing toward the south. With
that size, De Beer said, the deck would be big enough for a variety of outdoor
activities, with plans for plants, exercise equipment and furniture for
gathering.
Though the current Covid-19 pandemic casts a pall over processes
of all kinds, he said, Anthem hopes to get approvals by year's end, and then
start work next spring. On that timeline, the project would be completed by
summer 2023. De Beer said he couldn't share an estimated project cost.
Since 2014, the property at 1500 S St. has traded hands
several times as various players got as far as approved plans but never
pulled the trigger. Last October, entitlements expired for a five-story project on the site of 75 to 123
apartments.
On a faster track and also by Anthem is a similar project at
1030 J St. in Downtown Sacramento. Anthem Cathedral, as it's called, would have 153
apartments above about 10,000 square feet of commercial space in a seven-story
building.
Sacramento's planning commission is tentatively scheduled to
review Anthem Cathedral next month, which would presage demolition of existing
buildings on the site as soon as this summer, De Beer said. Vertical
construction would follow this fall.
Known mostly in recent years for residential land development in suburban areas, including its local office in Roseville, Anthem Properties made a conscious pivot about two years ago toward also doing for-rent projects, De Beer said.
"We've been having a foothold in the Sacramento area for
six years, but we've never looked at downtown Sacramento or vertical
development here," he said. Heartened by a positive response to the idea,
he said, the company targeted both the K Street area downtown and the R Street
Corridor south of downtown for projects.
"It's part of a commitment on a long-term basis in Sacramento,"
he said.