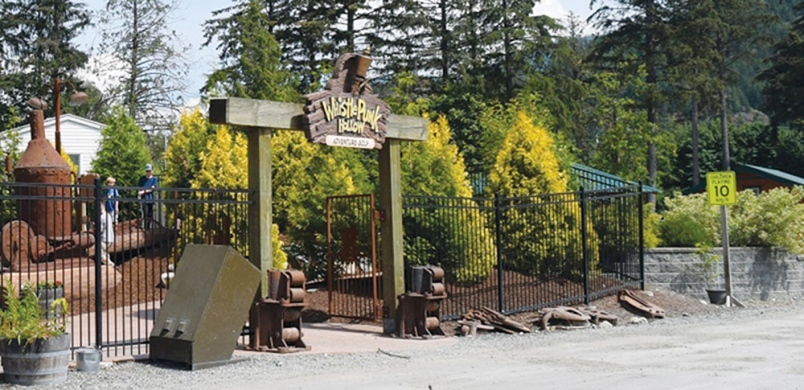 Squamish Chief
Steve Chua
After being deferred twice last year, a development proposed to reshape the former site of the WhistlePunk Hollow Adventure RV Park — also known as Eagle Vista campground — has made a step forward.
In a 6-1 decision, District of Squamish council voted in favour of granting the project second reading on Jan. 21. As a result, the development will go before a public hearing, which has been scheduled for Feb. 18 at 6 p.m. in municipal hall's council chambers.
If developer Anthem Properties succeeds in its proposal, council will rezone land at 1701 and 1940 Centennial Way into a CD-90 zone, which will allow for a residential development with commercial and light industrial spaces.
The development aims would include 79 market condos, 80 rental apartments, 94 market townhomes, three market townhomes with lock-off suites and 10 duplexes.
Lock-off suites allow townhouse owners to rent out a portion of their property to tenants.
Out of all the residential spaces, 23 units and one townhouse are expected to be affordable rentals.
The project proposes space for businesses such as cafés and offices for doctors, lawyers and local companies. A light industrial building would house businesses such as breweries, sports equipment manufacturers and coffee roasters. A daycare that would fit 25 children would also be on site.
"I think that we have a patient and responsive developer on this project. This is a project we've been hearing about for a long time and has evolved over that period of time," said Coun. John French.
"It ticks a lot of boxes for me: [the] Centennial Way and Loggers Lane intersection improvement, I think is very much needed. It's close to existing recreation facilities. [It has a] childcare facility that's also needed. I like the public art component that's talked about, and we're getting diverse housing not just in form, but also in affordability and varied employment space."
Coun. Chris Pettingill was the sole dissenting vote.
"I hope to actually change my vote at third reading if we saw some of the fossil fuel infrastructure issues addressed,"
said Pettingill.
"Watching Australia, looking at the calendar, we have 10 years to reduce from where we are today…I understand we want to be careful of changing goalposts…but we are in [a climate] emergency and that means we all have to do things significantly differently and quite quickly."
Mayor Karen Elliott wondered if 25 children would be enough to make a viable operation, as she's heard daycare may require more enrolments to make the business worthwhile.
Mayor Karen Elliott wondered if 25 children would be enough to make a viable operation, as she's heard daycare may require more enrolments to make the business worthwhile.
She said this means they may have to bring rent down for the space, or design an area that allows a daycare to be profitable.
Currently, this land is designated CD-73, which, among other things, allows for campgrounds.
That function would be lost if the rezoning succeeds.
Council's decision arrives after a number of changes it asked for in meetings last year were granted.
Office space was bumped up to 28% from 23% of the development.
Three car share vehicles, which will be operated by Modo, will be available.
An affordable rental townhouse has been added to accommodate requests for affordable housing diversity.
Seventy-five townhouse units will use electric rather than gas power.
A roundabout improvement to the Centennial-Loggers Lane intersection will be added earlier, at the first phase of construction.
A public water station is slated for the north of the site.
View the original article here.