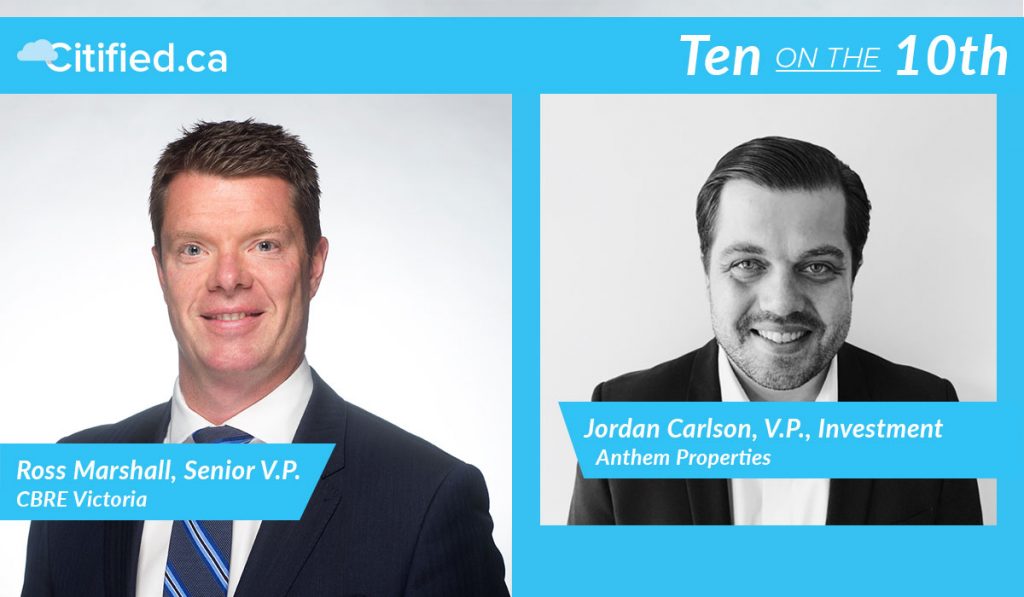 Citified.ca
Now in its third year, Citified's Ten on the 10th is a monthly question-and-answer segment connecting our readers with the insight and knowledge of Victoria's top real-estate and business professionals.
Ten on the 10th's November segment features Jordan Carlson, Vice President of Investment at Anthem Properties. Click here to view a list of former Ten on the 10th Q&As.
Asking the questions is Ross Marshall, Senior Vice President of the Victoria offices of commercial real-estate brokerage CBRE. As a leader in facilitating large-scale commercial real-estate transactions throughout the Capital Region – which include apartment complexes, industrial retail and office properties, and land/development opportunities – Ross and his team are at the forefront of market-leading real-estate transactions on Vancouver Island.
Anthem has been a big player in Greater Victoria's real-estate industry for several decades. What attracted you to the Capital, and what keeps you active in the region?
Since Anthem's inception, diversification has been a key component of the investment strategy. We say the words "…multiple asset classes in multiple markets…" constantly when describing our approach or planning for the future. We're also fully integrated, meaning we self-perform all functions (construction, leasing, sales and marketing, property management, etc), which allows us to execute on that diversification pretty well.
In the 90's, Anthem was primarily focused on acquiring income property in the United States, along with grocery-anchored centres in western Canada. Bob Levine at Avison Young called Eric, our CEO, with Market Square in 1997 and they flew over there to tour it. From what I've been told, it was a sunny day, the square was bustling with tourists, locals, and employees from the offices upstairs, and between that and the character of the brick-and-beam structures, it sold itself well as a vibrant mixed-use urban asset that happened to occupy a lot of land in the heart of downtown Victoria. I think we felt that Victoria had some stability in its economy being a government city with several large post-secondary institutions. It was an attractive tourist draw, and long-term, it was a great Canadian city that provided an alternative to Vancouver. It's also a 30 minute seaplane ride from our office, so it's a great opportunity to get exposed to a different market while retaining that ease of operations.
We bought Market Square, then we purchased parcels upon which we would eventually develop our Union mixed-use condominium and retail project (across the street from Market Square on Pandora Avenue). Thereafter, we took a break as Victoria went through some ups and downs. Downtown in particular didn't offer a lot of excitement. When I joined Anthem in 2014, I was responsible for leasing at both Market Square and the retail at Union, and it was a battle with lots of turnover and flatlining rents, etc. We had to be proactive in going after creative tenants with vision, and get creative on deal structures to help them get started. That ended up coinciding well with what I'll call Victoria's renaissance, where we saw a rapid evolution in the local tech scene creating job growth and bringing in energetic people to the city, an explosion in housing pricing in Vancouver causing people to move to Vancouver Island in search of a similar but cheaper (slightly) lifestyle, and a general shift in consumer preferences towards strong, creative, independent retailers and service providers.
These are great fundamental drivers and, Covid-setbacks aside, Victoria has been right in the path of progress ever since. This is what keeps us coming back. These days, we are always looking for opportunities in multiple asset classes over there, and have acquired a number of sites for mixed-use development, a prominent heritage multi-family building downtown, and Tillicum Shopping Centre with our partner, Crestpoint.
Your real-estate holdings have also expanded to additional markets on Vancouver Island, including Nanaimo's Port Place shopping centre. Can you tell us about that acquisition, and your vision for Port Place?
We have always liked food and grocery, liquor store and pharmacy-anchored retail centres as they are essential services, regardless of what may be going on in the economy. These services have been a good asset class for Anthem and we have a great platform for managing it. Over the past decade, we have continued to go after this asset class, although more-so in areas undergoing population and job growth, because those asset classes benefit our retail tenants, and shopping centres typically sit on large parcels of land with low site coverage, and can eventually be redeveloped or repositioned.
This describes Port Place. The majority of the income was coming from strong-covenant, well established businesses like Thrifty Foods, London Drugs, BC Liquor Stores, TD Bank, CIBC, and Dollarama, and First Capital (previous owner) had done a good job renovating the original buildings while constructing new buildings. Furthermore, Nanaimo was, similar to Victoria, seeing great population growth and the city had a clearly articulated vision to centre that growth around downtown which they actually backed up through their policies and actions.
We were seeing a ton of infill residential development in the downtown area, and despite downtown Nanaimo having an undeniable grit to it, the tenant sales at Port Place were proof of an active, growing, and diverse population. Finally, Port Place sit on 10-acres right in the middle of all that, and the city is keen to see it redeveloped in stages over the long-term.
It ticked all the boxes for us. For the foreseeable future, we're happy to manage it as-is, however have been planning to put in another pad building, and longer-term, we would look at utilizing underused portions of the site for residential development, whether it be condominium or rental.
Speaking of shopping centres, Anthem Properties owns Tillicum Shopping Centre in Saanich. Some years ago, a plan had gone before the district calling for a highrise residential tower. What are your plans for densification of Tillicum Shopping Centre?
I remember seeing those plans. Tillicum is similar to Port Place, but bigger and it has better redevelopment potential in the near-term. Bigger city, more land, bigger existing shopping centre, better economics going for it, etc. As of now, we, being Anthem and Crestpoint, are still very much in the planning phases. There are a lot of tenants there with renewal options and rights to parking/exposure, and we're happy to have them. It's about working together with Saanich, the surrounding community, and our tenants to move some of the pieces around and begin developing new space in a manner that minimizes disruption to current operations. It will be a work in progress for a decade or more.
Big picture though, the final outcome will likely align with the OCP plans for the site, which involve using the 30 acres to create a vibrant, integrated hub of low and mid-rise buildings with retail, office, and all forms of residential. We're very excited about it. Victoria is practically bursting at the seams, as is Langford, and this sits right there waiting to take some of the pressure off. It's a great opportunity.
Do you have a construction timeline in mind for Tillicum's expansion?
Not right now, no. There are parts of the site we could get going on right away, but like I said, you have to look at the whole thing holistically to get the best result. We've determined that to go where we can now, would compromise the overall project.
Variability in construction costs has been a major theme in recent years. Where do you think construction costs are headed, and what impact will this have on a large-scale densification effort like future residential projects at Tillicum?
This is a good question and something we talk about every day. Construction costs are absolutely the biggest cost-driver in our projects, and we're constantly fighting margin compression as a result. The pandemic brought labour and materials shortages which made the problem worse, although some of that is probably temporary. Regardless, we think construction-cost-inflation is probably here to stay, especially in active markets like Victoria. For the foreseeable future, there will probably be this fundamental housing shortage driven by geographic constraint and population growth, along with an abundance of capital in the system chasing opportunity. That pressure will be there.
So long as people keep moving here and our policies allow for sustainable growth, we don't foresee a slowdown in construction activity as revenues should, in theory, continue to rise in some proportion as well (not to say they're perfectly aligned). The business case should still be there and there's enough capital out there chasing the opportunity to make it happen. The importance of being nimble, having your hands all over your projects to ensure dots are connecting and costs can be managed, and optimizing your capital stack will continue to rise. I will get grilled for this, but return thresholds will slowly creep down (even if no one admits it) and there will likely continue to be a shift in the makeup of who is doing these larger projects, from purely private groups to more private/institutional joint ventures or institutions with in-house advisors.
In terms of over-arching, broad trends impacting the real-estate development industry, what are you seeing out there? Is there something profound on your radar for 2022 through 2025?
There's the hard cost inflation, as we've discussed, and then the other two are staffing and government policy. You need a good team to execute on a good vision, as do the many groups working with you (your consultants, your governments, etc) and there are labour shortages everywhere right now. It's never been more challenging to get team members on board. This is why creating a good culture is so important. We're hopeful that this situation will stabilize as we come out of the pandemic, but it's certainly on the radar.
Government policy is huge. That goes for macro policy, like immigration targets and fiscal policy, right down to municipal policies on densification and land use and permissible housing types. We are coming out of a tough period for housing policy in particular, where we saw virtually all municipalities go through major changes to their council and mandates, and not all of the new policy was well thought out. There were absolutely legitimate needs to address housing un-affordability and displacement, among other things, but in many cases, the policies created around these issues was rushed, divisive, not done holistically, and ended up creating an environment of malaise and lacklustre results. Luckily, we do seem to be coming back into some balance, where solutions are being thought of on a win-win basis and confidence is coming back, but it proved how quickly things can change. We're still very much in a time of volatility, so we're always closely watching all levels of government to see how they're reacting.
On the benefits side, we do think we will see (and are already seeing) immigration numbers tick up, which should help sustain demand in all asset classes. Finally, we see industrial in major BC markets continuing to be squeezed as constraints to new supply, coupled with major demand driven by logistics, food processing, film, and e-commerce should persist. Victoria in particular is seeing a ton of construction of this product to meet the demand, but conditions are so tight that we think this trend will be a big one over the next few years.
What market changes do you foresee in 2022? Inflation is certainly a concern, but will it continue to be over the medium term, or will interest rates suppress escalating costs for goods and services?
The billion dollar question. Interest rates will probably start to tick up sometime in Q2. They are so, so low right now, and there is a lot of capital out there, that I'm not sure it will materially reduce investing activity in 2022. We foresee a very active, busy year with a lot of exciting things going on. Still, it should put a bit of a drag on pricing, whether that looks like a slowdown in acceleration or a levelling off.
I think the dramatic inflation we're seeing right now is being caused in large part by the hangover of the pandemic. Supply chains are still a mess so there are materials and goods shortages everywhere (have you tried to buy a bicycle recently?), labour markets are in a state of flux and there's not enough talent looking for jobs, and we're seeing a ton of pent-up consumer demand come off the sidelines. This is all putting a lot of immediate pressure on pricing and, as life gets back to normal, things should balance out and this inflationary environment will calm a bit. Still, it's something to keep watching and planning around.
Speaking of inflation, how does it impact the real-estate industry, broadly speaking?
Broadly speaking, it typically pushes market rental rates, and values, up. This is partially why people call real-estate a hedge on inflation. Even with lease terms in place, you can project rising base rents over time which helps increase the value of your asset. If you're holding assets with NNN leases, it also insulates landlords from operating expense inflation, although that's not necessarily a good thing as you want your tenants to be healthy, and if the costs inflate too much, there will be downward pressure on your base rent as tenants only care about the total size of their rent cheque.
In a total free-market economy, multi-family, with its gross leases and short-term tenancies, allows landlords to continue raising rents with the market which offsets or exceeds cost inflation and helps your building value. Obviously, the issue here is that if there's too much inflation on rents, you'll end up displacing people that need housing. That's problematic in and of itself, but it also means governments are more likely to bring in stricter rent controls, which, if costs are allowed to continue to rise, can begin to erode value and cashflow. BC faces some of this pressure right now, especially in markets like Victoria and Vancouver.
Ultimately, hard assets like real estate are a bit of a safe harbour against inflation which is why they continue to be an investment target for groups of all kinds, but like anything, there is nuance there that you should watch out for.
As interest rates rise, at what point do you think they could have a negative effect on real-estate investment?
A rising interest rate environment can impact investment both directly and indirectly. Directly, if borrowing is more expensive, purchasing power is diminished and values can drag.
Furthermore, your tenants' purchasing power (of their equipment, improvements, goods etc) can drag, which means they have less money to pay rent, which can also drag your value down. When looking at development of condominiums – whether it be residential, office, retail or industrial, your purchasers have less purchasing power which will put a cap on your revenues. As I mentioned, rates are so low right now, and there seems to be enough capital out there, that I'm not convinced a few raises will dramatically alter the investment environment in the near-term. It would have to be pretty hard and fast over a sustained period of time.
That being said, the indirect impact is what it does to confidence. When purchasers, whether it be professional commercial real-estate investors, or simply someone looking to buy their first apartment, hear of rising costs of borrowing, it rightfully introduces more fear and uncertainty into the equation. They're more likely to adopt a wait-and-see approach, which slows activity. I'm not sure we'll see that in 2022, but it could certainly come into play over the mid-term, as rates continue to inch up.
In an era of high competition for desirable brick-and-mortar real-estate assets, how difficult is it to place assets in markets like Victoria and Vancouver Island?
This won't surprise you, but it has gotten a lot more challenging. Victoria was not, when I started out, a super competitive market. It was mostly local players, a few Vancouverites, the odd Albertan, and some of the institutions in the rental and office product. Since, I would say, 2016, it has emerged as a highly credible secondary Canadian real estate market due the fundamentals it continues to display and the capital out there looking for a home. It hit a tipping point, there's not a lot of supply, and so every piece of real-estate worth looking at is getting multiple bids with big pricing and short deal timelines.
I remember when $75 per buildable square foot was a lot for a downtown site. That was circa 2017, 2018. Furthermore, a listed site would be lucky to see multiple offers and those offers would come with longer timelines attached. The value for good land has probably gone up by 50% since that time, in some cases much more, and there will be many groups at the table.
Look at the Lou-Poy site in James Bay. I think that got nearly 10 offers, most of which were over the pricing guidance, and without conditions. That's amazing given where the market was not that long ago.
We definitely now look to larger, often 'hairier' properties with holding income in place, where we can use our management platform to operate the existing asset more efficiently and increase cash flow, while planning development on a longer term basis. It's gotten tough.
You're active in multiple markets across Canada. What are some of the benefits or drawbacks to developing property in a market like Calgary, or in Alberta in general, compared to developing new projects on southern Vancouver Island?
There are a number of pros and cons. As far as benefits go, Alberta is generally more "pro business" and this is reflected in Calgary's and Edmonton's approaches to planning for and approving development.  Not to say it's easy, but you can count on more of a unified desire to see product come to market, and some more flexibility, so there is less planning risk and timelines to get approvals are materially shorter. We just completed a 93-unit multi-family rental project in Calgary's Kensington area, are under construction on two shopping centres, are now looking at building industrial, and in all cases we are getting to a building permit stage much faster. When the market is there, this dynamic is fantastic and helps your returns. We are seeing a lot of both retail and industrial demand so being able to get those quick approvals, leases done, financing being placed, and seeing it come to life is a big benefit. Beyond that, except for AAA industrial assets, there is less froth in the market, so getting favourable deal terms is usually easier. Less competition, longer due diligence timing, more flexibility on price, etc.
Of course, it's no secret that Alberta has been through a number of hard years economically, and this has hurt the demand for certain kinds of real estate. In particular, condominium/townhome housing and office sectors have seen drop-offs in demand and pricing.
Construction costs are still expensive in Alberta, and you can't build all year round due to the climate, so there are still challenges to the cost side of the pro-forma, and with little pressure on revenues and long absorptions, it can be much harder to make projects profitable. This can be made worse given the amount of new supply that's able to come online. There is a surprisingly strong stream of demand for rental housing, for example, but because of that demand and the lack of demand for condo, and the city's density-friendly policies, there are hundreds of new units coming to market every quarter. It can definitely drag on your revenues when consumers have so much choice. That is just not a problem in a market like Victoria, where differences in opinion at city hall, geographic constraints, and heightened immigration create a tight market.
View the original article here.