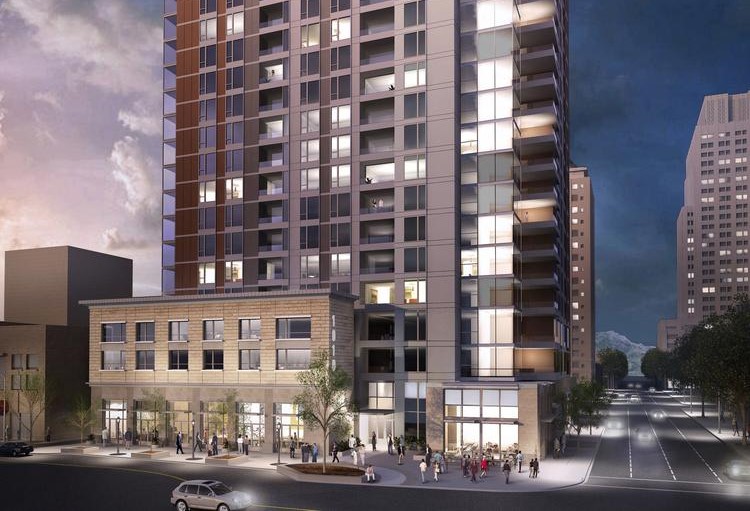 Ben van der Meer
Sacramento Business Journal
Residential builder Anthem Properties has bought the site of a planned 25-story mixed-use condominium tower in downtown Sacramento.
The Roseville-based builder bought the planned Cathedral Square property at 1018-1030 J St. for $5 million. Escrow closed Sept. 11. Brendan Leonard, who works in land acquisition and entitlements for Anthem Properties, said the ultimate plan for the site is still being determined.
"It was a great opportunity, and we believe in the spot, the project and the city," Leonard said, adding the company will weigh costs, policies such as rent control and other factors to come up with a plan. He said there's no timeline right now for when a final project will come forward.
Cathedral Square is one of a handful of entitled but unbuilt residential high-rises from the last development cycle. The project first received city approval in 2007, but stalled in the Great Recession. It is on a blighted block of J Street where city officials have pushed developers to make progress on projects that could bring new life to the neighborhood.
The approved project would have 242 condominiums above about 12,000 square feet of ground-floor retail space. There are currently a handful of empty two-story buildings on the site, on the southwest corner of 11th and J streets. The project footprint of 33,289 square feet takes up a quarter block.
Under its original approval, Cathedral Square would have had 107 one-bedroom, 124 two-bedroom and two three-bedroom condominiums.
Leonard said the project will definitely be mostly residential, with the possibility of first-floor office or retail space, or even an events center given its proximity to the state Capitol. Whether the residential units will be for rent or for sale will also be part of the final determination, he said.
"Knowing that it's on J Street, it's got greater potential than the five- or six-story projects of wood frame over a concrete podium you see popping up around midtown," Leonard said. But it's also possible Anthem Properties could move forward with a project not as tall as Cathedral Square's entitlements, he added, given the undetermined market in downtown Sacramento for high-rise residential units in large numbers.
The future site of MidiCi Neapolitan Pizza in the 700K project in downtown Sacramento.
St. Anton Investors and Cordano Co. worked together to get the original approvals and owned the property at the time. But heading into the recession in 2007, no further progress was made on the project and the partnership put the property up for sale in 2015 for $7 million.
At the time, listing broker Greg Levi of JLL Sacramento said a buyer could pursue a site plan change to build an office building or hotel instead. Canada-based Anthem Properties develops high-rise residential towers in Vancouver, British Columbia, among other cities, so the company has expertise in doing so. The local affiliate is known as Anthem United.
A year ago, the property's owners received an entitlement extension for Cathedral Square through July 12, 2019. City officials have pressured owners of unbuilt projects like Cathedral Square, as well as the Metropolitan, on the same block of J Street, to make progress on their plans or risk loss of entitlements.
"I walk around midtown every weekend, watching the city grow up," Leonard said. "We're on the bandwagon. It's really important for us to find the right economies here, and we are trying to take a very responsible approach."
St. Anton Investors LLC & Eleventh & J Devco LLC are listed as the sellers in the deal. JLL brokered the transaction.