RENX
Mario Toneguzzi
Vancouver-based real estate company Anthem continues to be bullish on the Calgary market and needs-based retail, launching two new shopping centre projects in the region to service growing residential communities.
The firm also announced the acquisition of the 300,612-square-foot Junction Shopping Centre in Mission, B.C. The grocery-anchored, tier-1 property was acquired in partnership with Crestpoint Real Estate Investments.
"Calgary is a core market for Anthem. It is a great city, with great people. It is affordable, has a well-educated population and is a better deal for families, all in, than Toronto or Vancouver," said Isaac Beall, Anthem's senior director of development, during an interview with RENX.
"It will grow and Anthem will continue to build homes, develop new communities and lease up commercial and industrial spaces to those people requiring it."
Anthem's D'Arcy Crossing and Highstreet at Cornerstone
The two new shopping centres – D'Arcy Crossing and Highstreet at Cornerstone – are being developed by Anthem Properties for the communities of D'Arcy in Okotoks, just south of Calgary, and Cornerstone in Northeast Calgary.
Those residential neighbourhoods are being developed by Anthem United.
The D'Arcy Crossing shopping centre, with Safeway as an anchor tenant, will also include Shoppers Drug Mart, a liquor store, restaurants, coffee shops and other businesses to service the daily needs of Okotoks-and-area residents. It will be the largest commercial centre in North Okotoks at 151,000 square feet and is scheduled to open in the spring of 2023.
The shopping centre will have more than 40 businesses when completed.
Beall said the northern part of the town has more than 60 per cent of Okotoks' total population. D'Arcy is a 280-acre community that launched in 2018 bordering the D'Arcy Ranch Golf Club.
Once completed, it will have more than 2,200 homes. About 300 homes have already been built in the community with full buildout expected by 2026.
Anthem is also building the neighbouring community of Wedderburn in Okotoks, which will include about 1,300 homes on completion, which is also expected by 2026. So far 50 new homes have been built.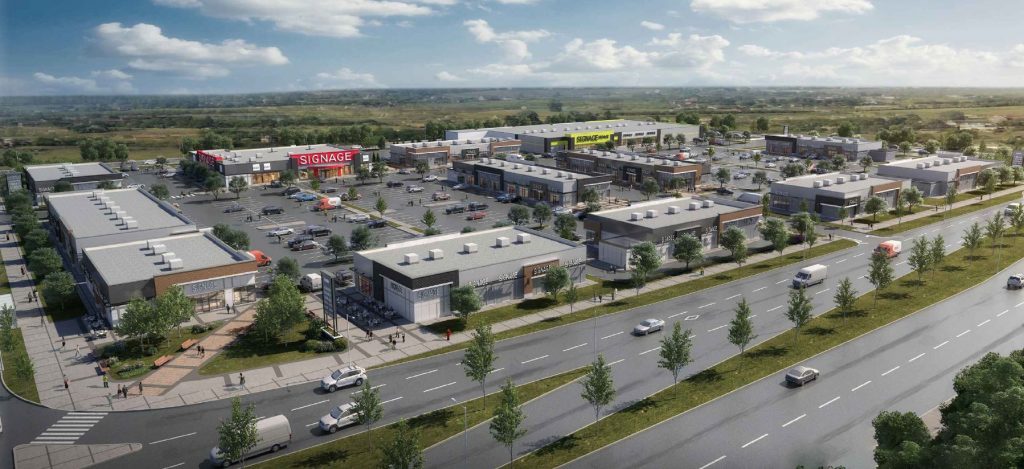 Cornerstone is a 1,100-acre community launched in 2015. It will comprise about 9,500 homes on full buildout by 2030, with 1,500 already built.
The new shopping centre, which will be 139,000 square feet, will feature a new Chalo! FreshCo and a Shoppers Drug Mart. It is under construction off Country Hills Boulevard and 60th Street N.E.
It also is scheduled to open in spring 2023.
Quickly growing Calgary neighbourhoods
The Cornerstone shopping centre will be a regional draw for other residential communities in the area which includes Redstone, Cityscape and Skyview Ranch – newer neighbourhoods built in the northeast part of the city in recent years.
"Eight years ago, there was nothing. Redstone was just starting and there are now 35,000 people that live there," said Beall. "It's staggering. There are so many homes up there it's absolutely shocking."
Calgary has been an integral part of Anthem's business in recent years. The company has developed or has slated for development 4,100 acres in Calgary, Chestermere and Okotoks.
It also has about 513,000 square feet of existing retail and commercial space.
Anthem's North American presence
Anthem, founded in 1991, has more than 270 residential, commercial and retail projects across Western North America.
Its portfolio includes 15,000 homes completed, in design or under construction, from master-planned, mixed-use and multiresidential, to townhome and single-family communities.
It also owns, co-owns, manages or has previously owned more than eight million square feet of retail, industrial, residential rental and office space.
The company is bullish on Calgary due to affordable real estate, lower taxes, great social and physical infrastructure and the fact people will be moving to the province.
It currently has eight active residential communities in the area which includes Cornerstone, Glacier Ridge in the northwest, Belmont in the southwest, Pine Creek in the southwest, Sirocco in the southwest, Wedderburn in Okotoks and Chelsea in Chestermere.
Some of Anthem's other communities also have commercial components planned for future phases, but D'Arcy and Cornerstone will be the first to open. They are also the first commercial centres in its land developments to be developed and built by Anthem.
"The No. 1 amenity for all of these residents is grocery," said Beall, "and part of our business model going forward is to provide that amenity."
The format for successful retail
Beall said a grocery-anchored shopping centre is the hub and the heart of a community and increasingly so during the current pandemic.
"That type of retail format we have a lot of confidence in, because our paradigm has always been food, booze and drugs when it comes to these centres. People need grocery stores. They need drug stores to get their medications and a liquor store," he said.
"It's sort of the prototype piece of critical amenities that communities want, and around that you provide that finer-grain service.
"You add some doctors in. You add the quick-service food and the hair salons and dentists. It's a sort of tried-and-true recipe and we like to keep that within the community.
"Also from a sustainability standpoint. We try to integrate them in in a thoughtful way as opposed to dropping them in a field in the middle of nowhere so it keeps people from having to travel far distances to have those needs met."
Beall said there is a need to tread carefully because not every community can support a shopping centre. A critical mass is needed, but wherever possible Anthem will pursue the opportunities.
"At the end of the day, it's always the grocery store that drives the bus. We're at the mercy of grocery tenants. Fundamentally their target trade area that most grocers look for is a population within their catchment in excess of 30,000 people," said Beall.
"That's sort of the magic number where a store starts to make sense, where they can draw enough shoppers in."
The Junction Shopping Centre acquisition
The Junction Shopping Centre in Mission includes about 40 tenants and is located at the intersection of the Lougheed Highway and the Abbotsford-Mission Highway about 70 kilometres east of Vancouver.
Anchored by Save-on-Foods and London Drugs, the regional shopping centre has a diverse roster of ancillary tenants including Winners, Cineplex, Goodlife and Starbucks.
The tenant mix is tailored to local demographics providing a mix of daily needs retail which also includes liquor, financial services, health and personal care, entertainment and discount retailers.
It is 98 per cent leased.
View the original article from RENX here.