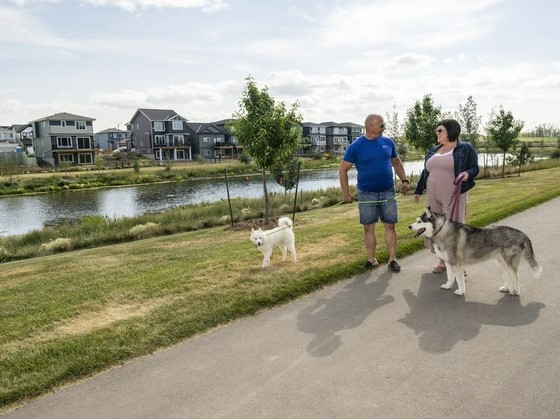 Laura Severs
Edmonton Journal
There was no flourish of trumpets when they purchased their dream home but given its location, there could have been.
Scott and Karen Bushie thought they found their dream home years ago in Spruce Grove. But it turned out that wasn't the case.
This time, and totally by chance, they did find that special place in northwest Edmonton.
"We actually found it by fluke," said Scott about the Trumpeter by Big Lake neighbourhood where they would ultimately build. "We lived in Spruce Grove and we were out driving one Sunday. We found Hawks Ridge, which is down the street, and then there was a little dirt path that said Trumpeter and we said, 'oh, let's go take a look.' "
Intrigued by the Jayman Built show home in Trumpeter, the couple found what they were looking for — the new home search ended there even though it would be about a year later before the timing was right to make the move.
"We loved the way it looked, the people are always nice here and we got the corner lot we asked for so we're quite happy," said Scott.
Scott and Karen bought Jayman's two-storey Taylor model, similar to the newer Taylor 22, which Jayman describes as a great home for a growing family, with an open concept main floor, walk-through pantry, a bonus room and upstairs laundry.
The Bushies' version comes in at some 1,820 square feet with three bedrooms and two-and-a-half bathrooms. While customizing the new build was key — their Spruce Grove home was a spec model that didn't allow for much in the way of changes — the Taylor's main floor layout also spoke to them. Meanwhile, Scott, the cook, got his gas stove and Karen was enchanted with the custom built walk-in closet in the primary suite — both were must haves on their new home checklist.
"It was just the fact that we could custom build it — what we wanted — within our budget and we never thought that we could get a house like that in our budget," said Karen.
Being on a corner lot, they took advantage of that and modified an exterior wall to bring more light in. That wall, next to the staircase on the inside, now has three windows.
"I asked the engineers if we could make it to put three windows on the staircase (wall)," explained Scott. "It was the first time it was ever done at design and they allowed me to do it. They redesigned that wall so they could give me the windows I asked for. They brought potential buyers by our house while it was being built to show them, like we kind of became the standard for a bit."
Inside, that additional sunlight shines onto their contemporary coastal design scheme. The home, said Karen, is contemporary with darker grey cabinetry, marble-like countertops and backsplash, has light grey walls and pops of blue for an accent.
The home has solar panels and smart home features including Amazon Alexa, which now come standard on new Jayman builds.
Outside, the couple's fur babies, Alaska, an 11-year-old Siberian husky and Polar, a nine-month old white pomsky, love the larger backyard, which is partly why they wanted a corner lot.
Easy access to the nearby Lois Hole Centennial Provincial Park, Big Lake and being close to other parts of the city also factored into their decision to choose Trumpeter.
And this time they say that this is indeed their dream home, calling both the house and the neighbourhood as perfect fits for them.
"It's a beautiful place to live," said Karen. "It's truly living in the city on the edge of the country."
Surrounded by nature, Trumpeter by Big Lake is inspired by the area's natural setting.
"With Big Lake, Horseshoe Lake and more than 34 acres of environment reserve, Trumpeter offers direct access to spectacular natural amenities," said Cody Price, marketing manager for Anthem, Trumpeter's developer.
"Trumpeter was the first residential development in the Big Lake area and connects residents to Lois Hole Centennial Provincial Park, several golf courses and the Enjoy Centre, as well as the extensive amenities of St. Albert and Edmonton."
The community also contains extensive environmental initiatives, including a system of small wetlands, bioswales and bioretention elements.
"Wildlife corridors were developed to help facilitate the movement of animals between natural habitats and residential trafficked areas, ensuring wildlife and residential safety," said Scott Reistad, Anthem's development manager.
Anthem has partnered with three builders. Jayman is building townhomes, laned, and front-garage homes. Pacesetter Homes is offering laned and front-garage homes, as is Anthem.
Pricing starts in the low $400,000s for townhomes, in the mid-$400,000s for laned homes and the mid-$500,000 range for front-garage homes.
Four new show homes are scheduled to open Sept. 24 along Trumpeter Way.
View the original article from the Edmonton Journal here.