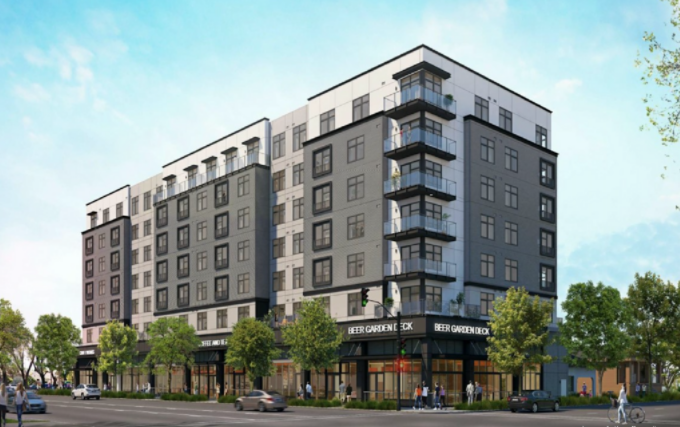 Sacramento Business Journal
Ben van der Meer
With $59 million of financing in place, work is on the verge of starting for a six-story, 137-unit urban housing project on the red-hot R Street Corridor in Sacramento.
Anthem Properties Group Ltd.'s project on the southeast corner of 15th and S streets should get underway by month's end and be completed by early 2024, said Riaan Debeer, vice president of development with Anthem, in an email.
"Yes, we just secured our financing, and we are very excited to see this project move forward as well," he said. Anthem is already underway on a similar project of 153 units at 11th and J streets in Downtown Sacramento.
For both projects, George Smith Partners Inc. of Los Angeles provided market advisory services for Anthem to line up financing. The project at 1500 S St. will have $39 million of construction debt and $20 million in equity financing, according to the firm.
The lender appetite for such projects is improving from what it was during the early days of the Covid-19 pandemic, said Gary Mozer, a co-founder and principal at George Smith. At the time, many believed dense urban housing projects would fall out of favor.
"Now you have visibility into stabilization post-Covid," Mozer said. But for projects like 1500 S St., other factors also have made them more attractive to lenders, including the overall value proposition for the Sacramento market.
Sacramento has factors such as a stable job base, access to amenities like the Bay Area and Sacramento-San Joaquin River Delta and affordability that make it more attractive, Mozer said. And it's not overbuilding, he added.
Developers looking to get financing for similar projects, Mozer said, have to check three boxes: overall value proposition, expertise from doing such projects previously and how the project will serve a competitive niche.
"Basically, deals are getting done because there's a housing shortage," he said.
At 1500 S St., the units will consist of 42 studio apartments, 31 one-bedroom apartments, 28 one-bedroom/den apartments and 36 two-bedroom apartments. The ground floor will have about 9,700 square feet of retail space, enough for seven tenants.
Amenities include concierge service for pet washing and walking, a fitness center with an outdoor exercise area on a second-floor deck and an outdoor garden.
Debeer said Anthem's project on J Street, called Anthem Cathedral, is on track to open in spring 2023.
"We are excited to contribute to the regeneration of that street block by bringing new housing and retail to the neighborhood," he said.
View the original article from Sacramento Business Journal here.