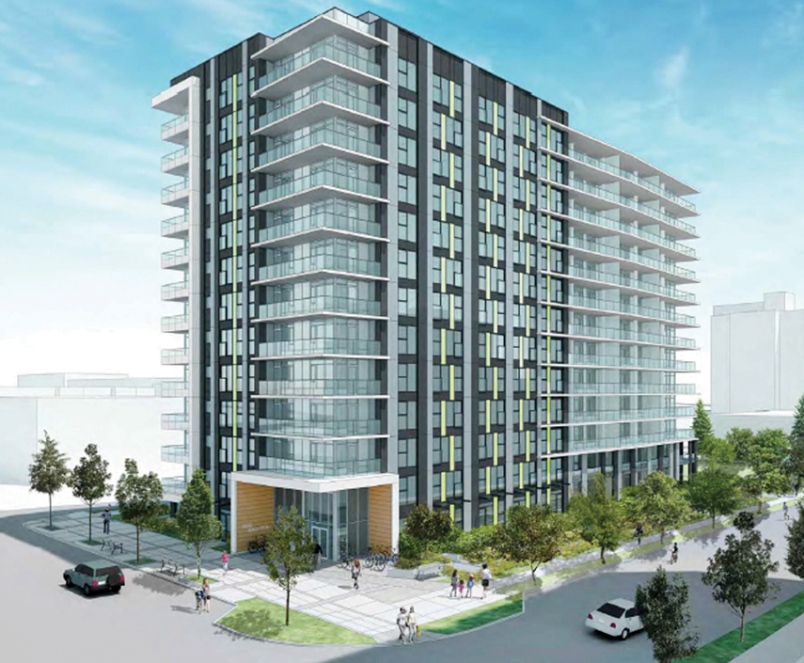 Jeremy Shepherd
North Shore News
The prospect of a 13-storey Central Lonsdale tower divided City of North Vancouver council July 23, as some described the rental project as a good project while others argued it was a great project.
"What's not to love?" asked Coun. Rod Clark.
Located at the corner of 17th Street and Eastern Avenue, the tower is 100 per cent rental, adding 225 units to the city's rental stock.
Rental housing plays a critical role in creating an inclusive community, Clark noted.
While a hefty majority of speakers at the meeting trumpeted the project's benefits to the community, neighbour Ana Naves pleaded with council to consider the impact of construction noise as workers erect the 121-foot tower.
Naves told a harrowing personal story of the rising stress and deteriorating mental health a person can suffer from feeling trapped in a construction zone.
Rather than build a new tower, the old buildings should be renovated, according to Naves.
"It is absolutely possible to renovate," she said.
While she thanked Naves for her courage in speaking to council, Coun. Linda Buchanan ultimately decided that construction noise is: "a reality of living in an urban community."
The 225-unit tower would replace 55 rentals spread between five buildings that currently occupy the site.
Knowing some of the residents of those 1950s era low-rise buildings gave Buchanan a few reservations about supporting the project, she said. However, Buchanan lauded Anthem for their "sensitivity and respect" in helping tenants relocate.
There are four residents who have yet to be relocated, according to Anthem director of development Riaan De Beer.
"We're not going to leave anybody behind," he assured council. "We're 100 per cent optimistic that we will find them homes before we start with work on the site."
Relocating those tenants is "critical," Mayor Darrell Mussatto noted.
Mussatto supported the project, suggesting greater density would be a good fit for 17th Street and Eastern Avenue.
While answering Mussatto's questions, De Beer said current tenants will get the first chance to move into the new building.
The project includes 23 units to be rented at 10 per cent below market rates for at least 10 years. However, Coun. Don Bell inquired if Anthem could offer those units at a discounted rate in perpetuity.
Building a concrete tower puts an approximately $7 million premium on construction costs compared to a wood-frame building, de Beer explained. That extra outlay makes it difficult to extend the discount period beyond 10 years, De Beer said.
The entire development spans five lots. However, the lots at 1600 and 1616 Easter Avenue would be reserved for an 18,595 square foot park. The city would buy the site for a park for $1 million.
Besides a much needed infusion of rental housing, the development also assuages the park deficiency in Central Lonsdale, Coun. Craig Keating noted.
While the park has yet to be designed, Buchanan emphasized that it should offer children a place to explore and play rather than serving as passive space.
Given the challenge of parking on the street in the neighbourhood, both Bell and Coun. Holly Back cited the project's ample parking in their remarks.
The development includes 177 parking spots, exceeding the city's requirement by 42 stalls.
"As much as people don't think we need parking, we still need parking," Back said.
Densifying the neighbourhood will make for a more vibrant community while offering a boost to local businesses, according to Back.
"The businesses in the area definitely need the young and the old," she said.
Representatives from the North Vancouver Chamber of Commerce, and the Lower Lonsdale Business Improvement Area also supported the project.
Besides helping local businesses, the project will also house families, Bell said, noting the project includes 25 three-bedroom units – two more than required by the city.
After supporting the project once on behalf of the Hollyburn Family Services Society, Joy Hayden returned to council chambers July 23 to advocate for the development as a neighbour.
"It makes the most sense for council to consider high-density buildings in this walkable community," she said, noting that the close proximity of goods and services has made her less reliant on her car.
But while density has perked up the Lonsdale Avenue storefronts, there is still a void in the neighbourhood, according to Hayden.
"When I open my door there is something missing, and that is children," she said.
With an emphasis on two- and three-bedroom units, the building may bring kids back to Central Lonsdale, she said.
Representatives from Landlord BC, Generation Squeeze and the Community Housing Action Committee all offered plaudits for the project.
The project's floor space ratio – which measures a development's total floor space against its lot size – is 3.3, which includes a 1.0 density bonus valued at $7.15 million. If the project had been a strata, the city would have expected those $7.15 million in cash.
But rather than a cash contribution, the city is accepting the 23 discounted rental units as a community contribution.
Council unanimously approved the project.
View the original article by North Shore News, here.